What Did the Average Household Spend on Mortgage Payments?
Date Posted: February 18, 2021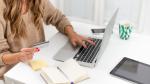 In the year of 2020, the average Ottawa household spent 16% of their income on mortgage payments in 2020. This was up from 10 years ago but is still below the 'affordability threshold' of 30%. In 2010, the housing cost of 14% of the average household's income in Ottawa. As the home prices jumped almost 60% from 2010-2020, household incomes failed to keep up, rising almost 37%. Ottawa Real Estate Board reported that the average resale price of a residential-class home in Ottawa was almost $680,000, up from $516,000 in January 2019.
To read the full Ottawa Business Journal article; click here.
Contact your Mortgage Broker for trusted advice