Canadians Not Deterred By Homeownership Obstacles- CMT
Date Posted: October 2, 2019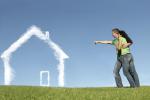 According to a new survey by Mortgage Professionals Canada, Canadians are still eager to gain foothold in the housing market despite looming obstacles.
With some markets boasting high prices and limited supply, changing mortgage rules and qualification requirements have become hurdles for some looking to enter the market, however, 90% of those surveyed who currently own a home do not regret their decision to do so. 76% of surveyed Canadians also still maintain the belief that they would be better off owning a home as opposed to the 8% who still feel renting is the right decision for them.
"Buying a home is complicated and challenging and stressful. Yet we still buy homes. We do it because we believe that it will make us better off than if we rent," says the report's author, Mortgage Professionals Canada Chief Economist Will Dunning.
"In most situations, owning a home provides a positive (and tax-free) 'rate of return' on the owner's investment of equity, and that rate of return rises over time."
Paul Taylor, President and CEO of MPC, says the association has learned much about the resilience of the Canadian homebuyer through its past surveys. "We've learned that Canadians are generally very prudent and considerate with their financial decisions."
To read more from the Canadian Mortgage Trends article, including consumer sentiments on the B-20 stress-test, First-Time Home Buyer Incentive and 30-year amortizations, click here.
Looking for more trusted mortgage advice? Contact your Mortgage Broker today.